The US-based hedge fund Arcstone Capital LLC has made a passage to India by picking up close to 5% stake in the Kerala-based old generation private sector bank —Dhanlaxmi Bank. The fund has mopped up the shares in the bank through its investment vehicle Passage to India Master Fund Ltd. The Denver-based hedge fund has been scouring for value buys in India for the past couple of years.
Aster Business Research Pvt Ltd is the sole advisor for the US-hedge fund in shaping its India strategy. However, investment in Dhanlaxmi Bank is the first step for Arcstone in India is not immediately known. Aster officials were not available for comment.
According to information available with FE, Arcstone, through its India-specific investment fund Passage To India Master Fund Ltd has bought 30 lakh shares of Dhanlaxmi Bank on the BSE in a single off-market deal on Friday. This translates into roughly 5% stake in the Kerala-based bank.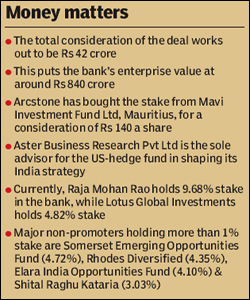 Arcstone has bought the stake from Mavi Investment Fund Ltd, Mauritius for a consideration of Rs 140 a share, coughing up a premium of Rs 7.15 per share over the closing price of the scrip on BSE at Rs 132.85 on Friday. The total consideration of the deal works out to be Rs 42 crore. This puts the bank's enterprise value at around Rs 840 crore.
It could not be immediately ascertained weather the Fund had informed the banking regulator RBI about the buy. The RBI guidelines stipulates that any investor whose holding is nearing 5% of the total voting capital of a bank should informed the apex bank about the move in advance.
Dhanlaxmi Bank was in the eye of a storm when P Raja Mohan Rao and persons acting in concert (PACs) with him picked over 37% stake in the Bank in 2002. The move created a stir among the minority shareholders who cried foul over Rao group's virtual takeover of the Bank, which was not having any foreign or domestic promoters. Subsequently, banking regulator RBI had stepped in and asked the Rao family to bring down their stake in the bank to less than 10% level. The Rao family has pared their stake in Dhanlaxmi Bank to 10% level in September 2007, following the apex bank's order.
Currently, Raja Mohan Rao holds 9.68% stake in the bank, while Lotus Global Investments holds 4.82% stake.
Source: Financial Express